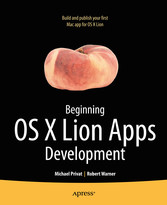 Beginning OS X Lion Apps Development

von: Robert Warner, Michael Privat
Apress, 2012
ISBN: 9781430237211
Sprache: Englisch
387 Seiten
,
Download: 21195 KB

Format: PDF, auch als Online-Lesen

With the Mac App Store launch in early 2011, a new age in Mac development began. Look for many of the cool apps for iPhone and iPad coming to an iMac or MacBook Pro near you!
Beginning OS X Lion Apps Development explains how to develop OS X Lion-based apps and publish them in the Mac App Store. It begins with the basics of Objective-C and Cocoa, and then moves through all the topics necessary to build and publish your first successful Mac apps!  
Get started with Objective-C and Xcode
Build your first complete apps that integrate well with Mac OS X
Publish your apps on the Mac App Store
If you're new to Mac or new to iPhone or iPad apps development, and looking to develop apps for the Macbook Pro or Mac desktop, this book is for you!
Rob Warner is a senior technical staff member for Availity, LLC, based in Jacksonville, Florida, where he works with various teams and technologies to deliver solutions in the healthcare sector. He co-authored emThe Definitive Guide to SWT and JFace/em (Apress, 2004), and he blogs at a href='http://www.Grailbox.com'Grailbox.com/a. He earned his bachelor s degree in English from Brigham Young University in Provo, Utah. He lives in Jacksonville with his wife, Sherry, and their five children.