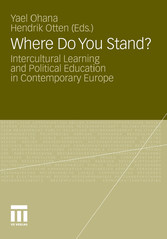 Where Do You Stand? - Intercultural Learning and Political Education in Contemporary Europe

von: Yael Ohana, Hendrik Otten
VS Verlag für Sozialwissenschaften (GWV), 2012
ISBN: 9783531943268
Sprache: Englisch
256 Seiten
,
Download: 2913 KB

Format: PDF, auch als Online-Lesen

Mehr zum Inhalt

Where Do You Stand? - Intercultural Learning and Political Education in Contemporary Europe
This publication takes up the many and often controversial debates about the nature, content, methods and political significance of intercultural learning in and for the European youth field. Its starting point is the current depoliticisation of intercultural learning in this field, and especially in the programmes of the European Commission and the Directorate of Youth and Sport of the Council of Europe over the last several years. At the same time, the elevation of 'intercultural dialogue' to panacea for all societal problems, from civil war to educational failure, is putting the mobilisational value of intercultural learning to the test.


Yael Ohana is a specialist in non-formal education and international youth work. She is the co-founder of and principal project officer at 'Frankly Speaking - Training, Development & Research', a small educational consultancy, based in Bratislava, Slovakia & Berlin, Germany.
Dr. Hendrik Otten is a specialist of political education. He is the director of the Institute for Research in Applied Communication (IKAB) in Bonn, Germany.