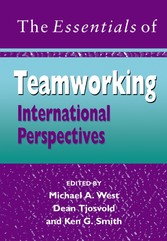 The Essentials of Teamworking - International Perspectives

von: Michael A. West, Dean Tjosvold, Ken G. Smith
Wiley, 2005
ISBN: 9780470015896
Sprache: Englisch
334 Seiten
,
Download: 1227 KB

Format: PDF, auch als Online-Lesen

The team, rather than the individual, is increasingly seen as the building block of organizations and a key source of competitive advantage. Despite this, not enough is understood about how to build successful teams in modern organizations.
The Essentials of Teamworking broadens this understanding by offering a selection of key chapters on teamwork from the International Handbook of Organizational Teamwork and Cooperative Working. This concise paperback edition reveals the complexity of teamwork and offers empirically based guidance on how teamwork can be effectively developed in modern organizations.
Bringing together leading international scholars, The Essentials of Teamworking offers challenging perspectives on teamwork that will inform future research and practice. It is an invaluable resource for professionals, researchers and students alike.