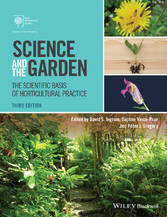 Science and the Garden - The Scientific Basis of Horticultural Practice

von: David S. Ingram, Daphne Vince-Prue, Peter J. Gregory
Wiley-Blackwell, 2015
ISBN: 9781118778395
Sprache: Englisch
400 Seiten
,
Download: 29482 KB

Format: EPUB, auch als Online-Lesen

Most conventional gardening books concentrate on how and when to carry out horticultural tasks such as pruning, seed sowing and taking cuttings. Science and the Garden, Third Edition is unique in explaining in straightforward terms some of the science that underlies these practices. It is principally a book of 'Why' - Why are plants green? Why do some plants only flower in the autumn? Why do lateral buds begin to grow when the terminal bud is removed by pruning? Why are some plants successful as weeds? Why does climate variability and change mean change for gardeners? But it also goes on to deal with the 'How', providing rationale behind the practical advice.
The coverage is wide-ranging and comprehensive and includes: the diversity, structure, functioning and reproduction of garden plants; nomenclature and classification; genetics and plant breeding; soil properties and soil management; environmental factors affecting growth and development; methods of propagation; size and form; colour, scent and sound; climate; environmental change; protected cultivation; pest, disease and weed diversity and control; post-harvest management and storage; garden ecology and conservation; sustainable horticulture; gardens and human health and wellbeing; and gardens for science.
This expanded and fully updated Third Edition of Science and the Garden includes two completely new chapters on important topics:
Climate and Other Environmental Changes
Health, Wellbeing and Socio-cultural Benefits
Many of the other chapters have been completely re-written or extensively revised and expanded, often with new authors and/or illustrators, and the remainder have all been carefully updated and re-edited. Published in collaboration with the Royal Horticultural Society, reproduced in full colour throughout, carefully edited and beautifully produced, this new edition remains a key text for students of horticulture and will also appeal to amateur and professional gardeners wishing to know more about the fascinating science behind the plants and practices that are the everyday currency of gardening.
Professor David Ingram, Formerly Regius Keeper, the Royal Botanic Garden, Edinburgh, RHS Professor of Horticulture and Master, St Catharine's College, Cambridge; now Honorary Professor in the Universities of Edinburgh (Science, Technology & Innovation Studies) and Lancaster (Environment Centre), UK.
Dr Daphne Vince-Prue, Formerly Reader in Botany, University of Reading, Scientific Advisor to the Agricultural Research Council and Head, Physiology and Chemistry Department, Glasshouse Crops Research Institute, UK.
Professor Peter Gregory, Formerly Director and Chief Executive, Scottish Crop Research Institute, Dundee and Chief Executive, East Malling Research; now Professor of Global Food Security, University of Reading, UK.