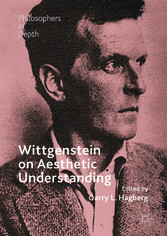 Wittgenstein on Aesthetic Understanding

von: Garry L. Hagberg
Palgrave Macmillan, 2017
ISBN: 9783319409108
Sprache: Englisch
400 Seiten
,
Download: 16083 KB

Format: PDF, auch als Online-Lesen

This book investigates the significance of Wittgenstein's philosophy for aesthetic understanding. Focusing on the aesthetic elements of Wittgenstein's philosophical work, the authors explore connections to contemporary currents in aesthetic thinking and the illuminating power of Wittgenstein's philosophy when considered in connection with the interpretation of specific works of literature, music, and the arts. The chapters presented here show what aesthetic understanding consists of and how we achieve it, how it might be articulated, and why it is important. At a time of strong renewal of interest in Wittgenstein's philosophy of mind and language, this book offers insight into the connections between the understanding of persons and the understanding of art.
Garry L. Hagberg is the James H. Ottaway Professor of Philosophy and Aesthetics at Bard College, USA, and was previously Professor of Philosophy at the University of East Anglia, UK. Author of numerous papers at the intersection of aesthetics and the philosophy of language, his books include: Meaning and Interpretation: Wittgenstein, Henry James, and Literary Knowledge (1994), Art as Language: Wittgenstein, Meaning, and Aesthetic Theory (1998), and Describing Ourselves: Wittgenstein and Autobiographical Consciousness (2011). He is editor of Art and Ethical Criticism, and of Fictional Characters, Real Problems: The Search for Ethical Content in Literature; co-editor of A Companion to the Philosophy of Literature; and editor of the journal Philosophy and Literature.