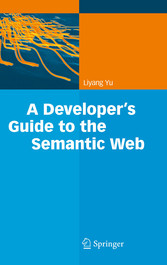 A Developer's Guide to the Semantic Web

von: Liyang Yu
Springer-Verlag, 2011
ISBN: 9783642159701
Sprache: Englisch
608 Seiten
,
Download: 8926 KB

Format: PDF, auch als Online-Lesen

Covering the theory, technical components and applications of the Semantic Web, this book's unrivalled coverage includes the latest on W3C standards such as OWL 2, and discusses new projects such as DBpedia. It also shows how to put theory into practice.
Liyang Yu
is Senior Software Developer with Delta Air Lines in Atlanta, GA, USA. He is a regular speaker on Semantic Web research and development issues at international conferences. His previously published introductory book on Semantic Web services has been used as the basic textbook for related courses by universities worldwide.