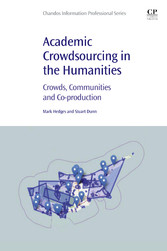 Academic Crowdsourcing in the Humanities - Crowds, Communities and Co-production

von: Mark Hedges, Stuart Dunn
Elsevier Reference Monographs, 2017
ISBN: 9780081010457
Sprache: Englisch
192 Seiten
,
Download: 2391 KB

Format: EPUB, PDF, auch als Online-Lesen

Academic Crowdsourcing in the Humanities lays the foundations for a theoretical framework to understand the value of crowdsourcing, an avenue that is increasingly becoming important to academia as the web transforms collaboration and communication and blurs institutional and professional boundaries. Crowdsourcing projects in the humanities have, for the most part, focused on the generation or enhancement of content in a variety of ways, leveraging the rich resources of knowledge, creativity, effort and interest among the public to contribute to academic discourse. This book explores methodologies, tactics and the 'citizen science' involved.
Addresses crowdsourcing for the humanities and cultural material
Provides a systematic, academic analysis of crowdsourcing concepts and methodologies
Situates crowdsourcing conceptually within the context of related concepts, such as 'citizen science', 'wisdom of crowds', and 'public engagement'
Mark Hedges is a Senior Lecturer in the Department of Digital Humanities at King's College London. His original academic background was in mathematics and philosophy, and he gained a PhD in mathematics at University College London, before starting a 17-year career in the software and systems consultancy industry, working on large-scale development projects for industrial and commercial clients. After a brief career break, he began his career at King's at the Arts and Humanities Data Service, before moving to his current position, in which he has taught on a variety of modules in the MA in Digital Asset and Media Management and MA in Digital Curation. His research interests include digital curation and digital archives, their role in research, and their relationships with broader research environments and infrastructures, and since 2012 he has been carrying out research on crowdsourcing and participatory methods in the humanities.