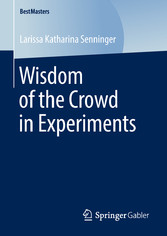 Wisdom of the Crowd in Experiments

von: Larissa Katharina Senninger
Springer Gabler, 2018
ISBN: 9783658242947
Sprache: Englisch
107 Seiten
,
Download: 2654 KB

Format: PDF, auch als Online-Lesen

Larissa Katharina Senninger analyses the phenomenon of wisdom of the crowd in experimental capital markets. Aiming to find out which market mechanism is able to aggregate different information in a meaningful way, a continuous double auction and a call auction mechanism are tested. In line with expectations, markets with continuous double auction mechanism are better able to aggregate information and additionally take a shorter time. The author shows that receiving more information enables subjects to make better estimations, whereas more information improves the quality of estimations significantly only if it is a lot more information.

Larissa Katharina Senninger holds a master's degree from the Leopold-Franzens-University in Innsbruck. She started her professional career in the risk controlling department of a German finance service in Munich and is currently responsible for interest rate risk and liquidity risk.