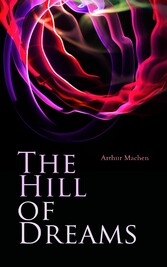 The Hill of Dreams - Autobiographical Novel

von: Arthur Machen
e-artnow, 2019
ISBN: 4057664145024
Sprache: Englisch
150 Seiten
,
Download: 471 KB

Format: EPUB, auch als Online-Lesen

Arthur Machen (1863-1947) was a Welsh author and mystic of the 1890s and early 20th century. He is best known for his influential supernatural, fantasy, and horror fiction. His book The Great God Pan has garnered a reputation as a classic of horror (Stephen King has called it 'Maybe the best horror story in the English language')

The Hill of Dream recounts the life of a young man, Lucian Taylor, focusing on his dreamy childhood in rural Wales, in a town based on Caerleon. The Hill of the title is an old Roman fort where Lucian has strange sensual visions, including ones of the town in the time of Roman Britain. Later, the novel describes Lucian's attempts to make a living as an author in London, enduring poverty and suffering in the pursuit of art and history.