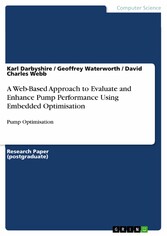 A Web-Based Approach to Evaluate and Enhance Pump Performance Using Embedded Optimisation - Pump Optimisation

von: Karl Darbyshire, Geoffrey Waterworth, David Charles Webb
GRIN Publishing, 2011
ISBN: 9783640851119
Sprache: Englisch
12 Seiten
,
Download: 651 KB

Format: EPUB, PDF, auch als Online-Lesen

Mehr zum Inhalt

A Web-Based Approach to Evaluate and Enhance Pump Performance Using Embedded Optimisation - Pump Optimisation
Research Paper (postgraduate) from the year 2011 in the subject Computer Science - Internet, New Technologies, Leeds Metropolitan University (Arts, Environment and Technology), language: English, abstract: Selection and configuration are widely met tasks in design; this is an example of a web-based selection/configuration tool with embedded optimisation. Pumps inevitably deteriorate over their product lifecycle, in which interaction generally occurs in terms of flow, pressure and electricity consumption. Practical implementations of pump scheduling suggest that a 10% of the annual expenditure on energy costs may be saved. The object is to minimise the energy cost incurred, while selecting the best schedule of legal available pumps. The results illustrate that the recording of pump characteristics over the internet provides an efficient method of pump performance and evaluation.