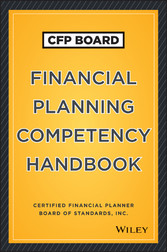 CFP Board Financial Planning Competency Handbook

von: CFP Board
Wiley, 2013
ISBN: 9781118620298
Sprache: Englisch
766 Seiten
,
Download: 13630 KB

Format: PDF, auch als Online-Lesen

Whether you're studying to become a financial planner, preparing for the CFP® exam, or a practitioner looking for a comprehensive reference to help serve your clients' needs, this is the ultimate guide. Developed by Certified Financial Planner Board of Standards, Inc. (CFP Board), the Financial Planning Competency Handbook gives you everything you need to meet the daily challenges of your current or future profession.

The book comes with access to nearly 400 practice questions online, as well as the option to upgrade to a 28-Credit Continuing Education test for CFP® professionals based in the United States.
This all-inclusive handbook covers the entire list of nearly 90 vital topics on integrated financial planning, including such major components as:
General Principles of Finance and Financial Planning
Insurance Planning
Employee Benefits Planning
Investment and Securities Planning
State and Federal Income Tax Planning
Estate Tax, Gift Tax, and Transfer Tax Planning
Retirement Planning
Estate Planning
Principles of Communication and Counseling
And more