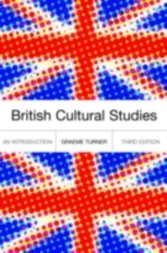 British Cultural Studies - An Introduction

von: Graeme Turner
Routledge, 2002
ISBN: 9780203994849
Sprache: Englisch
268 Seiten
,
Download: 2390 KB

Format: PDF, auch als Online-Lesen

British Cultural Studies is a comprehensive introduction to the British tradition of cultural studies. Graeme Turner offers an accessible overview of the central themes that have informed British cultural studies: language, semiotics, Marxism and ideology, individualism, subjectivity and discourse. Beginning with a history of cultural studies, Turner discusses the work of such pioneers as Raymond Williams, Richard Hoggart, E. P. Thompson, Stuart Hall and the Birmingham Centre for Contemporary Cultural Studies. He then explores the central theorists and categories of British cultural studies: texts and contexts; audience; everyday life; ideology; politics, gender and race. The third edition of this successful text has been fully revised and updated to include:

• applying the principles of cultural studies and how to read a text
• an overview of recent ethnographic studies
• a discussion of anthropological theories of consumption
• questions of identity and new ethnicities
• how to do cultural studies, and an evaluation of recent research methodologies
• a fully updated and comprehensive bibliography.

The Author

Graeme Turner is Professor of Cultural Studies at the University of Queensland. He is the editor of The Film Cultures Reader and author of Film as Social Practice, 3rd edition, both published by Routledge.