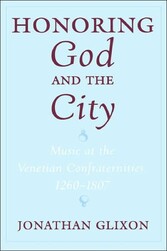 Honoring God and the City. Music at the Venetian Confraternities, 1260-1807

von: Jonathan Glixon
Oxford University Press, 2003
ISBN: 9780195134896
Sprache: Englisch
390 Seiten
,
Download: 2651 KB

Format: PDF, auch als Online-Lesen

This is the first detailed history of musical activities at Venetian lay confraternities. Based on over two decades of research in Venetian archives, the book traces musical practices from the origins of the earliest confraternities in the mid-thirteenth century through their suppression under the French and Austrian governments of Venice in the early nineteenth century.

The first section of the book treats the scuole grandi, the largest and most important of the Venetian confraternities, and the only ones to maintain musical establishments for long periods. The second portion of the book is concerned with the scuole piccole, the numerous less-important confraternities, sometimes as many as 300 of which were active simultaneously, located in churches throughout Venice. Appendices include an attempt to reconstruct a calendar of musical events at all Venetian confraternities in the early eighteenth century, demonstrating the vital role they played in the cultural and ceremonial life of this great city.