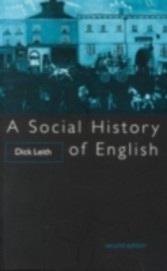 A Social History of English

von: Mr Dick Leith, Dick Leith
Routledge, 1997
ISBN: 9780203992869
Sprache: Englisch
280 Seiten
,
Download: 4095 KB

Format: PDF, auch als Online-Lesen

Second edition

From reviews of the First Edition:

'Most welcome—a readable, non-technical explanation of the "external" history of our language. At the same time, the reader will learn a good deal about the changes to the language itself. The book is an excellent antidote to all one hears about what a wonderful language English is, and how its virtues have led to its being so widely adopted.'
Times Literary Supplement

'This pioneering work is highly recommended to all those interested in a fascinating subject.'
New Society

'An excellent book: original, clear, well-written.'
Albion

A Social History of English is the first history of the English language to utilise the techniques, insights and concerns of sociolinguistics. Written in a nontechnical way, it takes into account standardisation, pidginisation, bi- and multilingualism, the issues of language maintenance and language loyalty, and linguistic variation.

This new edition has been fully revised. Additions include: up-dating of information about 'New Englishes' in different parts of the world, a new chapter entitled 'A critical linguistic history of English texts', which discusses a selection of texts from Anglo-Saxon to the present, a theoretical postscript outlining some problems in writing a history of English, and topics for further study.

All terms and concepts are explained as they are introduced, and linguistic examples are chosen for their accessibility and intelligibility to the general reader.

It will be of interest to the student of Sociolinguistics, English language, Literature, History and Cultural studies.

The Author

Dick Leith has worked as a consultant in the School of Education at the Open University and is a former lecturer in linguistics. His publications include English: History, Diversity and Change (co-author and editor with D. Graddol and J. Swann, Routledge, 1996).