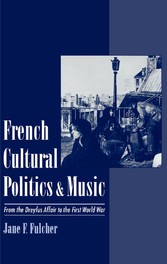 French Cultural Politics and Music : From the Dreyfus Affair to the First World War

von: Jane F. Fulcher
Oxford University Press, 1999
ISBN: 9780195120219
Sprache: Englisch
304 Seiten
,
Download: 21102 KB

Format: PDF, auch als Online-Lesen

"This book draws upon both musicology and cultural history to argue that French musical meanings and values from 1898 to 1914 are best explained not in terms of contemporary artistic movements but of the political culture.

During these years, France was undergoing many subtle yet profound political changes. Nationalist leagues forged new modes of political activity, as Jane F. Fulcher details in this important study, and thus the whole playing field of political action was enlarged. Investigating this transitional period in light of several recent insights in the areas of French history, sociology, political anthropology, and literary theory, Fulcher shows how the new departures in cultural politics affected not only literature and the visual arts but also music. Having lost the battle of the Dreyfus affair (legally, at least), the nationalists set their sights on the art world, for they considered France's artistic achievements the ideal means for furthering their conception of ""French identity."" French Cultural Politics and Music: From the Dreyfus Affair to the First World War illustrates the ways in which the nationalists effectively targeted the music world for this purpose, employing critics, educational institutions, concert series, and lectures to disseminate their values by way of public and private discourses on French music. Fulcher then demonstrates how both the Republic and far Left responded to this challenge, using programs and institutions of their own to launch counterdiscourses on contemporary musical values.

Perhaps most importantly, this book fully explores the widespread influence of this politicized musical culture on such composers as d'Indy, Charpentier, Magnard, Debussy, and Satie. By viewing this fertile cultural milieu of clashing sociopolitical convictions against the broader background of aesthetic rivalry and opposition, this work addresses the changing notions of ""tradition"" in music--and of modernism itself. As Fulcher points out, it was the traditionalist faction, not the Impressionist one, that eventually triumphed in the French musical realm, as witnessed by their ""defeat"" of Stravinsky's Rite of Spring."