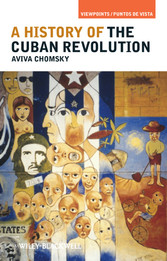 A History of the Cuban Revolution

von: Aviva Chomsky
Wiley-Blackwell, 2010
ISBN: 9781444329568
Sprache: Englisch
224 Seiten
,
Download: 1329 KB

Format: EPUB

A History of the Cuban Revolution presents a concise socio-historical account of the Cuban Revolution of 1959, an event that continues to spark debate 50 years later.

Balances a comprehensive overview of the political and economic events of the revolution with a look at the revolution's social impact

Provides a lively, on-the-ground look at the lives of ordinary people

Features both U.S. and Cuban perspectives to provide a complete and well-rounded look at the revolution and its repercussions

Encourages students to understand history through the viewpoint of individuals living it

Selected as a 2011 Outstanding Academic Title by CHOICE



Aviva Chomsky is Professor of History and Coordinator of Latin American, Latino and Caribbean Studies at Salem State College in Massachusetts. Her previous books include Linked Labor Histories: New England, Colombia, and the Making of a Global Working Class (2008), winner of the New England Council of Latin America's Best Book Prize, They Take Our Jobs! And 20 Other Myths about Immigration (2007), and West Indian Workers and the United Fruit Company in Costa Rica, 1870-1940 (1996).