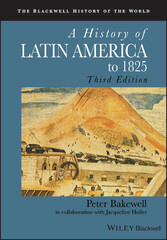 A History of Latin America to 1825

von: Unknown
Wiley-Blackwell, 2011
ISBN: 9781444357530
Sprache: Englisch
608 Seiten
,
Download: 5753 KB

Format: EPUB

The updated and enhanced third edition of A History of Latin America to 1825 presents a comprehensive narrative survey of Latin American history from the region's first human presence until the majority of Iberian colonies in America emerged as sovereign states c. 1825.

This edition features new content on the history of women, gender, Africans in the Iberian colonies, and pre-Columbian peoples

Includes more illustrations to aid learning: over 50 figures and photographs, several accompanied by short essays

Concentrates on the colonial period and earlier, expanding coverage of the period and incorporating more social and cultural history with the political narrative




Peter Bakewell is Edmund and Louise Kahn Professor of History at Southern Methodist University and has taught in the US since 1975. His major research and writing has centered on the history of silver mining and related topics in colonial Spanish America. His previous works include Silver Mining and Society in Colonial Mexico: Zacatecas, 1546–1700 (1971) and Silver and Entrepreneurship in Seventeenth-Century Potosí: The Life and Times of Antonio López de Quiroga (1988).
Jacqueline Holler is Associate Professor of History and Women's and Gender Studies at the University of Northern British Columbia in Prince George, Canada. She is the author of Escogidas Plantas: Nuns and Beatas in Mexico City, 1531–1601 (2003), and of articles on colonial Mexico.