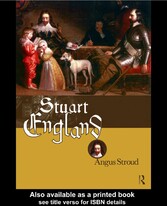 Stuart England

von: Angus Stroud
Routledge, 1999
ISBN: 9780203217702
Sprache: Englisch
233 Seiten
,
Download: 2966 KB

Format: PDF, auch als Online-Lesen

England under the Stuarts has been the focus of endless historical research and controversy. When James Stuart came to the throne in 1603, he was the first monarch to inherit the crowns of England, Scotland and Ireland, and each of these kingdoms was in a state of relative prosperity and obedience. Within forty years, his son Charles I was facing rebellion in all three. Stuart England examines and explains this turnaround and the reasons for Charles's subsequent execution and the abolition of the monarchy.

Stuart England then describes and analyses the years of the Civil War and Republic, the motivations and significance of Cromwell's rule, the restoration of the monarchy, the reigns of Charles II and James II, and finally the events of the Glorious Revolution.

With a comprehensive selection of extracts from leading historians and sections of documents drawing on a wide range of primary sources from across the period, Stuart England is an essential guide for students of seventeenth-century English history.

The author

Angus Stroud teaches history at Barton Peveril College.