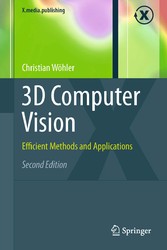 3D Computer Vision - Efficient Methods and Applications

von: Christian Wöhler
Springer-Verlag, 2012
ISBN: 9781447141501
Sprache: Englisch
382 Seiten
,
Download: 11139 KB

Format: PDF, auch als Online-Lesen

This indispensable text introduces the foundations of three-dimensional computer vision and describes recent contributions to the field. Fully revised and updated, this much-anticipated new edition reviews a range of triangulation-based methods, including linear and bundle adjustment based approaches to scene reconstruction and camera calibration, stereo vision, point cloud segmentation, and pose estimation of rigid, articulated, and flexible objects. Also covered are intensity-based techniques that evaluate the pixel grey values in the image to infer three-dimensional scene structure, and point spread function based approaches that exploit the effect of the optical system. The text shows how methods which integrate these concepts are able to increase reconstruction accuracy and robustness, describing applications in industrial quality inspection and metrology, human-robot interaction, and remote sensing.

Christian Wöhler is Professor of Image Analysis at the Department of Electrical Engineering and Information Technology of TU Dortmund, Germany. His scientific interests are in the domains of computer vision, photogrammetry, remote sensing, and pattern classification, with applications in various fields including machine vision, robotics, advanced driver assistance systems, and planetary science.