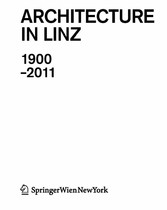 Architecture in Linz 1900-2011

von: Andrea Bina, Theresia Hauenfels, Elke Krasny, Isabella Marboe, Lorenz Potocnik, Andrea Bina, Lorenz
Springer-Verlag, 2012
ISBN: 9783709108321
Sprache: Englisch
317 Seiten
,
Download: 19906 KB

Format: PDF, auch als Online-Lesen

Architectural Guide for the City of Linz, including new photographs of all buildings described. Contains also a fold-out city map indicating the projects.


Andrea Bina. Curator. Director of the Nordico City Museum of Linz. Studied dramatics and art history in Vienna. Curator and Director of the Lentos Art Museum Scientific Library until 2010. Numerous exhibitions and publications on the crossroads of art, architecture, and urban history.
Theresia Hauenfels. Author and curator. Studied romance studies and history. Freelancing in the fields of architecture, contemporary art, and Austrian identity since 1998; articles in architektur.aktuell since 2010; stations for the exhibition to the book Building(s) for the Arts. Contemporary Architecture in Lower Austria, Kunstraum Niederösterreich, Vienna 2009,Designfactory, Bratislava 2012, Galerie d'architecture, Paris 2012. Lives in Vienna and Waidhofen/Ybbs.
Elke Krasny. Curator, project artist, and author. Senior Lecturer at the Vienna Academy of Fine Arts; artist-in-residence, Bellevue: Gelbes Haus, Linz09.Awarded the Outstanding Artist Award for Women's Culture by the Federal Ministry for Education, Art, and Culture in 2011. Curated numerous exhibitions including: 'Hands-on Urbanism 1850-2012; The Force is in the Mind, the Making of Architecture', Architekturzentrum Wien 2008; 'City and Women, A Different Topography of Vienna', Vienna City Library 2008.
Isabella Marboe. Architectural journalist and author. Studied architecture at the Vienna University of Technology; School of Photography Vienna. Numerous architecture critiques in Der Standard, Furche, architektur.aktuell, Deutsche Bauzeitung, Wiener Zeitung, andH.O.M.E. Essays published in many books including FrauenArchitektouren. Arbeiten von Architektinnen in Österreich, Die Enzyklopädie der wahren Werte, and Best of Austria Architektur 2006/07and 2008/09.
Lorenz Potocnik. Urban developer. Lives and works in Vienna and Linz. Studied architecture at the Vienna University of Technology, Delft University of Technology, and the School of Architecture Portsmouth. Specialized in process-oriented projects and planning with an emphasis on citizen initiatives. Project direction for the 'umbauwerkstatt -Research Lab for the Future Use of the Linz Tobacco Factory' since 2010; member of the board afo architekturforum oberösterreich.