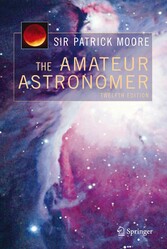 The Amateur Astronomer

von: Patrick Moore
Springer-Verlag, 2006
ISBN: 9781846282867
Sprache: Englisch
293 Seiten
,
Download: 8671 KB

Format: PDF, auch als Online-Lesen

This 2000 Edition of Sir Patrick Moore's classic book has been completely revised in the light of changes in technology. Not only do these changes include commercially available astronomical telescopes and software, but also what we know and understand about the universe.
There are many new photographs and illustrations.
Packs a great deal of valuable information into appendices which make up almost half the book. These are hugely comprehensive and provide hints and tips, as well as data (year 2000 onwards) for pretty well every aspect of amateur astronomy.
This is probably the only book in which all this information is collected in one place.