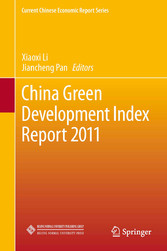 China Green Development Index Report 2011

von: Xiaoxi Li, Jiancheng Pan
Springer-Verlag, 2012
ISBN: 9783642315978
Sprache: Englisch
530 Seiten
,
Download: 8300 KB

Format: PDF, auch als Online-Lesen

With the rapid growth of global industrialization, there has been substantial consumption of fossil fuels such as coal, petroleum, and natural gas along with growing carbon dioxide emissions. Unprecedented environmental and ecological crisis clouded the world. Fortunately, the Climate Conference in Copenhagen signaled hope amid the sluggish global economic recovery. Countries worldwide have been braced for developing their scientific and industrial strategies in the era of post financial crisis with a green and low-carbon philosophy. In 2008, the UN unveiled a plan for green politics and green economy, which is well-received and carried out by countries worldwide. China's 30-year rapid economic development has attracted worldwide attention. However, how to develop in a sustainable manner when faced with acute contradictions between economic growth, resources and environment has posed great challenges to China. Therefore, it is of great significance for us to speed up the study of green development and find a rational growth model. This study is completed by Prof. Li Xiaoxi and the dedication of other leading thinkers in economics, management, environment and resources together with the help of China Economic Monitoring and Analysis Center (CEMA).

Li Xiaoxi, a famous Chinese economist and expert entitled to special allowance by the State Council, is professor of economics, PhD tutor, vice director of the Academic Committee of Beijing Normal University and an expert of the Chinese Economists 50 Forum. He was formal director of the Research Office of the State Council. In 2003, he was awarded the Sun Yefang Economic Prize.Report series such as A Report on the Development of China's Market Economy 2003 and A Report on the Development of China's Market Economy 2005 submitted to EU and the United States discussing China's market economy status was applauded by the international community. The former won the Sun Yefang Economic Prize and the latter published by Ashgate Publishing Ltd. Pan Jiancheng ?PhD, Deputy Director-General of China Economic Monitoring and Analysis Center, National Bureau of Statistics of China.