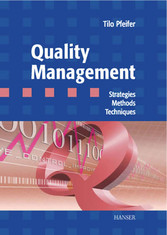 Quality Management

von: Tilo Pfeifer
Carl Hanser Fachbuchverlag, 2002
ISBN: 9783446224025
Sprache: Englisch
620 Seiten
,
Download: 9461 KB

Format: PDF, auch als Online-Lesen

"Quality remains when the price is long forgotten!"
This statement is attributed to Henry Royce, the co-founder of the highly reputable British company Rolls Royce. An analysis of the purchasing behavior of the consumers in the current climate of cut-throat competition and systematic customer-orientation shows that the corporate strategy of "Quality" holds out more promise than ever before, to manufacturing companies [prf]. It is hardly surprising therefore that the competitive element of "Quality" has come to rival the traditional competitive factors "Cost" and "Time" in recent years.
Quality, i.e. the key defining elements such as stability of value, durability, functionality and efficiency, is the main decision-making factor consumer goods and where both the complex products in the capital goods market are concerned. Thus, quality has a catalytic effect on market strategies worldwide. It is the decisive requirement for a "good reputation."
Those who have it find all doors open to them, those who have lost it, frequently perish or struggle desperately to have their names associated with that magic word "Quality" again. Forward-looking companies must face the challenge and invest in the development of an efficient quality management system. In the long term, only those businesses which succeed in implementing technological innovation swiftly and economically and who can respond to the requirements of customers with the appropriate products will be successful [teg]. This defines modern quality management in a nutshell.
Der Autor
Prof. Dr.-Ing. Tilo Pfeifer; Fraunhofer Institut für Fluktionstechnogie (IPT), Aachen; Abteilung Mess- und Qualitätstechnik; Werkzeugmaschinenlabor der RWTH Aachen (WZL); Lehrstuhl für Fertigungsmesstechnik und Qualitätsmanagement.