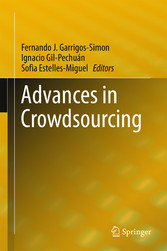 Advances in Crowdsourcing

von: Fernando J. Garrigos-Simon, Ignacio Gil-Pechuán, Sofia Estelles-Miguel
Springer-Verlag, 2015
ISBN: 9783319183411
Sprache: Englisch
183 Seiten
,
Download: 3676 KB

Format: PDF, auch als Online-Lesen

​​This book attempts to link some of the recent advances in crowdsourcing with advances in innovation and management. It contributes to the literature in several ways. First, it provides a global definition, insights and examples of this managerial perspective resulting in a theoretical framework. Second, it explores the relationship between crowdsourcing and technological innovation, the development of social networks and new behaviors of Internet users. Third, it explores different crowdsourcing applications in various sectors such as medicine, tourism, information and communication technology (ICT), and marketing. Fourth, it observes the ways in which crowdsourcing can improve production, finance, management and overall managerial performance.  
Crowdsourcing, also known as 'massive outsourcing' or 'voluntary outsourcing,' is the act of taking a job or a specific task usually performed by an employee of a company or contractors, and outsourcing it to a large group of people or a community (crowd or mass) via the Internet, through an open call. The term was coined by Jeff Howe in a 2006 issue of Wired magazine. It is being developed in different sciences (i.e., medicine, engineering, ICT, management) and is used in the most successful companies of the modern era (i.e., Apple, Facebook, Inditex, Starbucks). The developments in crowdsourcing has theoretical and practical implications, which will be explored in this book.  
Including contributions from international academics, scholars and professionals within the field, this book provides a global, multidimensional perspective on crowdsourcing.​