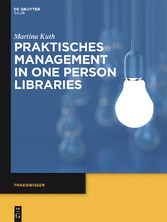 Praktisches Management in One Person Libraries

von: Martina Kuth
De Gruyter Saur, 2015
ISBN: 9783110396270
Sprache: Deutsch
150 Seiten
,
Download: 893 KB

Format: EPUB, PDF, auch als Online-Lesen

This is the first book originally written in German language to offer practical guidelines on the possibilities and limitations of working as a solo librarian. In addition to illuminating relevant library and information science terminology, this compact handbook aims to help readers meet the special challenges of the one-person library, offering numerous tips for efficient and user-oriented working practices.
Martina Kuth, CMS Hasche Sigle, Frankfurt/Main.