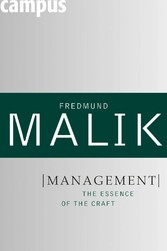 Management - The Essence of the Craft

von: Fredmund Malik
Campus Verlag, 2010
ISBN: 9783593409085
Sprache: Deutsch
304 Seiten
,
Download: 10617 KB

Format: PDF, auch als Online-Lesen

Management is a craft - a universal discipline, the most important one of the 21st century. In this book, the leading author in the field of general management gives an overview of the principles and foundations that general management is based on. Looking far ahead into the information age, Malik explains the factors for success which can be verified both scientifically and practically. Fredmund Malik's general management theory is system-oriented and therefore valid all over the world at any given time. It works in all areas and industries of any society, irrespective of changing trends, of national or of cultural differences. With his consistent and well-grounded alignment along the natural phenomena of complex systems - phenomena that both executives and managers have to cope with every day - Malik sets the standard for sound management in the era of knowledge. 'One of the best management books. It contains wise and exceptional ideas.' WirtschaftsWoche

Prof. Dr. oec. habil. Fredmund Malik is a pioneer of management in complex systems. As such, he advocates the need for a complete change in approach, 180-degree turn: from the false doctrines and theories of the past to a nature, system, and brain-friendly conception. As a scientist, author, consultant, and management coach, Professor Malik has been teaching, advising, and influencing the thinking of executives and managers across all levels, organizations, and industries. For decades, the St. Gallen based professor has been an entrepreneur in his own right. He is the owner of Malik Management and the employer of around 250 people in St. Gallen, Zurich, Vienna, Berlin, London, Shanghai, and Toronto. He is also a member of several supervisory, administrative, and foundation boards. Fredmund Malik stands for the unparalleled integration of practice and science. His latest publication with Campus was the new edition of his best seller Managing, Performing, Living. Effective Management for a New Era.